Equestrian perfomances in Brittany
During your visit to the Haras you will discover a unique environment and encounter equestrian artists presenting original performances and activities. A diverse and rich programme for the whole family to enjoy!
before season
 from february 9TH to april 15th and march 20th
The Haras National d'Hennebont opens its doors to you for guided tours to discover the places (courses, stables, honor saddlery) and the imposing horses. On Saturday March 20, attend the concert of Thousand + Dominique Beslay under the big top (program outside the walls of the Hydrophone).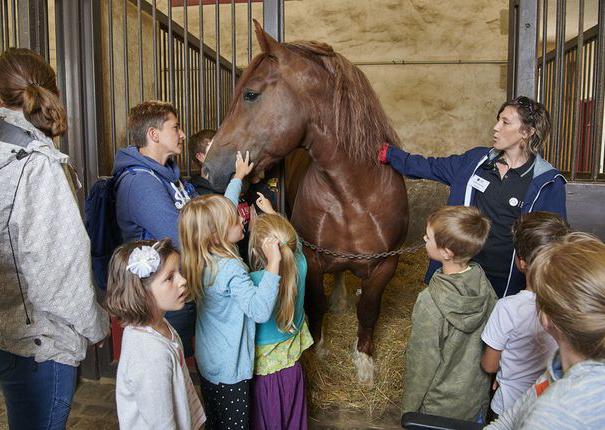 SPRINGTIME AT THE HARAS ¹
 from april 19TH to may 9th
During the spring holidays, take advantage of the sunny days to experience a unique family outing at Haras d'Hennebont! You visit the place with our guides, attend the current show "L'autre cheval"* and have an appointment with the artists in residence. On Sunday, take a guided tour and attend an animation around singing and equestrian art.
*The other horse
SPRINGTIME AT THE HARAS ²
may 29th and 30th, and from june 15th to 24th
The Haras d'Hennebont invites you to attend two new performances of the show "A • Bois" by the Tempo d'Eole Company. Also take part in guided tours to learn more about the Haras National d'Hennebont: its built heritage and its horses!
summer cavalcades
 6th july - 27th august 
Share with the artists and guides animators the passion of the horse ... At the heart of your animated visit, enter the marquee to discover a new equestrian show produced under the direction of Jean-Marc Imbert.
AUTuMN AT THE haras
 in october
It is on a guided tour that you discover the Haras d'Hennebont in the colors of autumn. During school holidays, a guided tour + a horse show is offered in the afternoon.
christmas at the haras
DECEMBRE anD JANUARY
Every year the big top at the National Haras d'Hennebont is filled with the magic of Christmas. This year the Jehol company presents a poetic and comical fantasy show immersing young and old alike in a world where everything is carefree…